About Mark Stuart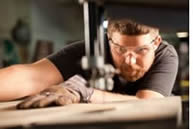 My name is Mark Stuart. I am a woodworking enthusiast and do-it-yourself furniture builder with over 26 years of experience. The truth is that if it is made of wood I have probably built it. And not to toot my own horn but I make beautiful furniture easily and quickly.
But it wasn't always that way.
I used to take shortcuts to save time and money - only it never worked out that way. At one point I came to a realization that I needed to take my professionalism up a notch and to begin using woodworking plans to help me out with my project. That is why I created "FurnitureCraftPlans" - the easiest way to start and complete any woodworking project!
Besides woodworking, I'm a lover of dark roast coffee, cake donuts with sprinkles, good scotch, good cigars, and good barbeque. I live currently in Springfield, MO with my wife Debbie, my 2 daughters and my faithful hound.




Professional Carpenter & Master Craftsman
Member of NTWA & Lifelong Educator
Mark Profile | Google Profile+

Home - Order Now - Customer Reviews - Sample Plans - About
Mark Stuart - 2032 E Cario
Springfield, MO 65802, United States



Privacy Policy - Terms and Conditions - FAQs - Sitemap